1974 Peugeot PY10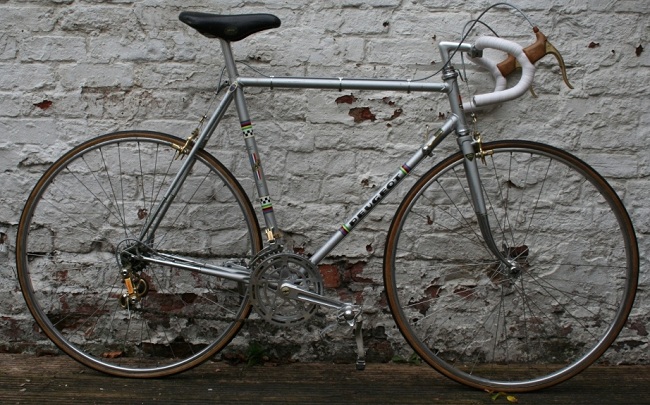 Specification:
Serial No: 037 74
Frame: Reynolds 531 butted tubing, forks and stays; Seat Tube: 58cm ctt; Head Angle: 75deg; Seat Angle: 74deg; Wheelbase: 99cm; Simplex dropouts (modified)
Crankset: Stronglight 93; Chainrings: 50t/42t
Pedals: Campagnolo Record
Gears: Simplex Super LJ front and rear derailleurs, gold anodized; Shifters: Simplex SLJ retrofriction, gold anodized; Mailard 6-spd freewheel 14-19t
Wheels: Unidentified rims on Campagnolo Record SF hubs with Simplex quick releases
Brakes: MAFAC Competition, gold anodized, brazed-on mounts for callipers
Handlebars and Stem: Cinelli Giro d'Italia on Cinelli 1A stem
Saddle and Seatpost: Ideale 2002 on Simplex alloy seatpost 26.8mm diameter
Prestige Peugeot
Peugeot opened its new "Prestige Peugeot" workshop towards the end of 1974 for the production of hand-made bicycles for the Peugeot racing team and for private customers.  Until this time the top Peugeot racing machine was designated the PX10 which was built in the main factory at Beaulieu.  The bicyles produced in the Prestige workshop were designated PY10, and the PX10 continued as the top production bike.
Peugeot Team Bikes
By all accounts, the Peugeot professional team riders rode factory bikes with few exceptions such as Tommy Simpson and Eddy Merckx who rode bespoke frames from other builders, although photographs also show them riding what appear to be factory frames.
With the opening of the Peugeot Prestige workshop, team bikes were produced there.  Coincident with this (more or less – to be verified), the colour of the Peugeot team bikes was changed from white to silver.
Prior to 1975, photographs of some team bikes show them fitted with Campagnolo hubs, which were never part of the factory specification.  From 1975 the hub of choice seems to be the Maillard 700, also fitted to PX10s from the same year, albeit typically branded Peugeot Trophy and large flange rather than the small flange hubs typically seen on team bikes.
Team bikes also used Cinelli bars and stems, whereas standard specification for PX10s and PY10s was Philippe.
A picture of Thevenet riding in the 1974 World Champoionship road race in Montreal, Canada, shows him riding a silver bike with Cinelli bar and stem, Campagnolo small flange hubs and gold anodized Mafac Competition brakes and Simplex Super LJ gears – just like the subject bicycle in fact.
Photographs of Thevenet in the 1975 Tour de France show him riding a similar bike, but fitted with Maillard 700 small flange hubs and with the new Mafac "drilled" brake levers (the holes were actually pierced, but we all say drilled because we know that means lots of round holes) and usually, but not always, with the new 1975 head tube decal.  Some photos show him on a bike with the 1974 style decal
Beyond 1975 there were further changes to the team PY10, not relevant to the subject bike and so not covered here.
PY10 v PX10
The following list of differences applies to the subject PY10 and is clearly not applicable to every PY10 because of the degree of customer specification that was available:
Prestige Peugeot decal on top tube – rear, LH side
Lighter gauge Reynolds 531 frame tubing
Simplex dropouts hand modified to improve appearance and remove fender attachment eyes; rear dropouts fitted with screw wheel position adjusters
Simplex Super LJ derailleurs and shifters – gold anodized
Brazed-on brake calliper bosses and gold-anodised Mafac brake callipers and levers; full rubber hoods on brake levers
Cinelli bar and stem
Campagnolo Record small flange hubs
Ideale 2002 saddle  (v. 2001 on PX10)
Check out the specification of a 1975 Peugeot PX10 here
Personal Comments
The bike featured here is unusual in not having a production serial number and it is clearly one of the earliest PY10s produced.  The number, 037 74, suggests 1974, possibly the 37th frame produced, and its date is confirmed also by the head tube decal of the type last produced in 1974 and the gold-anodized Mafac brake levers which do not have the drillings introduced in 1975.  There is every indication that this bike is still fitted with its original equipment, which includes Campagnolo Record SF hubs and Cinelli bar and stem – these were features of the team bikes but not standard equipment, which, together with the serial number, leads to speculation that this bike might be a prototype, team rider's bike or team spare bike or maybe just a temporary numbering system that was soon abandoned.  The equipment on the bike is not conclusive because a PY-10 could be ordered to a customer's individual specification for both frame and equipment.
I would be interested in any information on early PY10s that might shed more light on this one.
The 50t big chainring with 14-19t "straight" 6-speed block does seem slightly unusual.  Freewheels with cog spacings of 1 tooth generally denote racing, but in this case with what would generally be considered a low top gear.  One could speculate endlessly as to why, and they may not be original to the bike of course.
The photographs show an incorrect type of brake lever hood, now replaced by the correct type.  The photos also show the black Simplex-branded hoods missing from the hub quick release levers – removed for safe-keeping.
Bernard Thevenet in 1975 Tour de France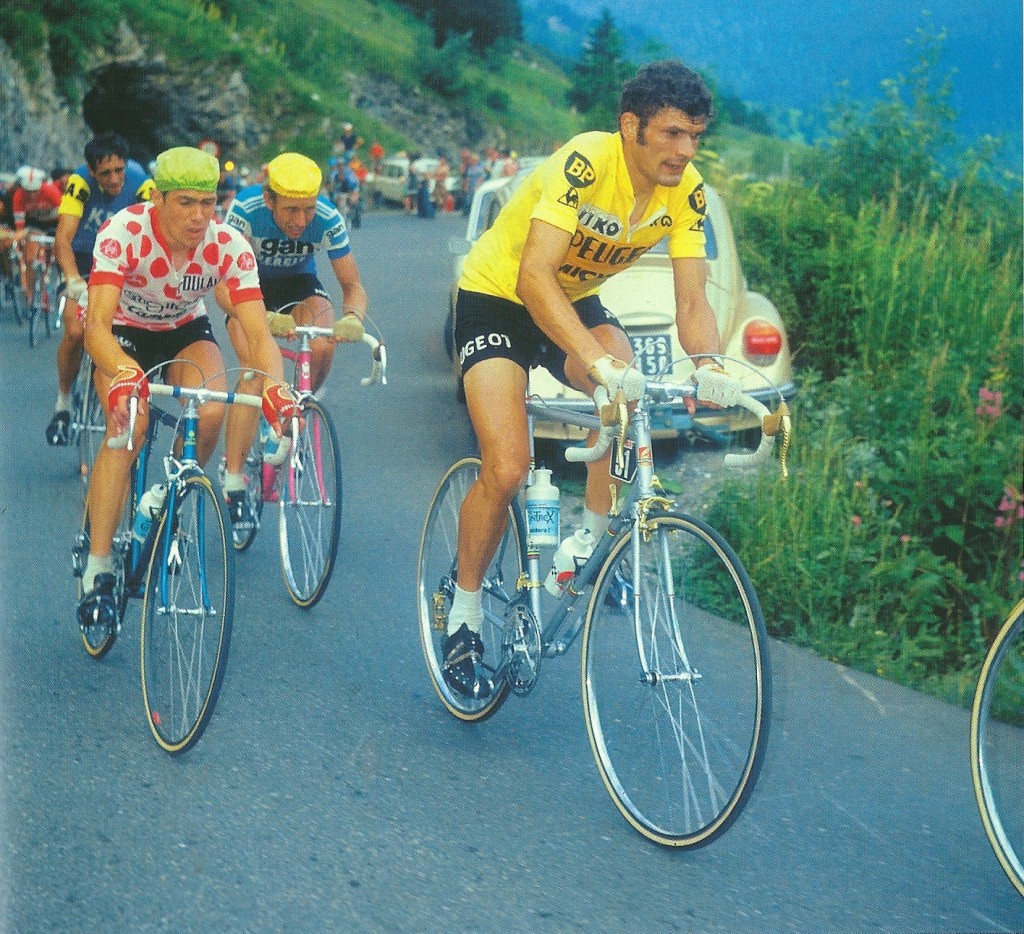 More pictures of 1974 PY10 Bicycle