La Perle
HELP! – Not much information is available on the La Perle company, nor on the bicycles.  If you have anything to add, please contact us through the contact page.  Thanks!
The Company:
The La Perle bicycle company was located in Saint-Maur, Seine-Maritime, France.
Founded by whom and when?
Several sources on the internet say that the company folded in 1955.  The Cycling Archives (http://www.cyclingarchives.com/) record racing teams using La Perle bicycles through 1957.  They can't all be right.
"La Perle" translates into English as "The Pearl".  The head badge was shield shaped in gold with blue panels, green wreath and a round pearl in the centre with rays emanating from it.  The seat tube decal was similar.
Judging from the lack of information and the low number of La Perle bicycles appearing for sale, it would appear to have been a small company.  One wonders how they could afford to run a racing team.  Perhaps they couldn't, which may be why they went bust.
Francis Pelissier, famous bicycle racer, was manager of the La Perle racing team for a number of years.  One would not expect him to come cheap.
The most famous victory for La Perle was Hugo Koblet's Tour de France win in 1951 which must have kept them going for a bit.
Jacques Anquetil raced successfully, with some high profile wins, for La Perle in the 1954 and 1955 seasons and moved to Helyett in 1956.
The 1950s were a hard time for the French bicycle industry, losing many customers to mopeds and scooters.  French racing teams were typically unable to afford to send their riders to Italian races, but a concession by the French cycle racing authority allowed French riders to be contracted to Italian teams to race in Italy, so Jacques Anquetil raced for La Perle, except in Italy where he was contracted to Bianchi.
The Bicycles:
La Perle team bicycles in the Koblet/Anquetil era were red with white or off-white head tubes.  This appears to have been the most common finish for racing and sports bicycles sold to the public.
Koblet's 1951 TdF winning bike was equipped with one of the first Campagnolo Gran Sport gears, operated by handlebar-end levers, with full length outer cables from levers to derailleurs.  He used steel cranks (Durax Speciale Courses) at a time when some professional teams were switching over to Stronglight's excellent aluminium alloy 49D cotterless cranks.  According to advertisements, the wheel rims were Mephisto "A BLOCS", which appear to have been popular on French racing bikes of the time (also fitted to the 1949 Follis and 1954 Stella on this website).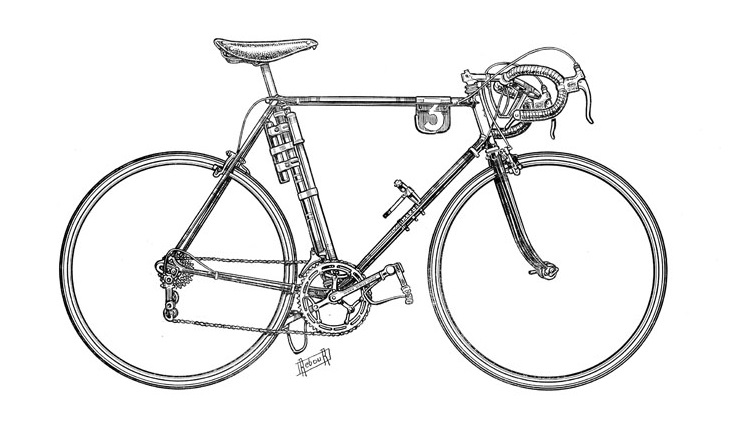 Anquetil's La Perle bicycles appear to have been Simplex-equipped.
We have a La Perle frame, with Campagnolo dropouts, that will be configured like Koblet's Bike although not 100% correct in that his bike had ultra rare first generation dropouts and gears.  Our frame is a year or two later, still with 4mm adjuster screws in the rear dropouts, but with half chrome forks and stays and brazed-on fittings for the handlebar gear control cables.