c.1954 Stella "Tour de France" Bicycle
THIS PAGE IS UNDER DEVELOPMENT – MORE DETAILS AND PHOTOGRAPHS WILL BE ADDED AS THEY BECOME AVAILABLE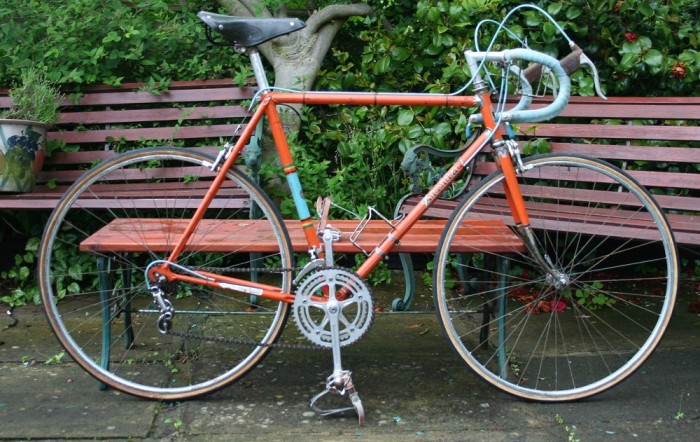 Specification:
NOTE: This is the specification of the bicycle "as received" and includes some non-original equipment (see Notes below)
Serial No: 58 stamped on left rear dropout and front dropout
Frame: Vitus tubing; Seat Tube: cm ctt; Top Tube: cm ctc; Head Angle: deg; Seat Angle: deg; Wheelbase: cm;
Crankset: Campagnolo Record (first type with raised surface at pedal attachments and backing plates to pedal thread holes) – not original equipment
Pedals: Campagnolo Gran Sport – not original equipment
Gears: Campagnolo Record rear derailleur; Campagnolo Record front derailleur (first type with chrome plated arms and slotted cable stop); Campagnolo bar end levers – all not original equipment; 5-spd freewheel
Wheels: Mephisto "a blocs" rims on Campagnolo Gran Sport SF hubs with Campagnolo quick releases
Brakes: Universal brake levers – not original equipment – with MAFAC Racer callipers
Handlebars and Stem: Ambrosio Champion – not original equipment
Saddle and Seatpost: Brooks B17 saddle on Campagnolo Gran Sport seat post, 26.0mm dia. – both not original equipment
Notes:
The dating of this bike is based on the frame decal "Vainqueur du Tour de France du Cinquantenaire" (Winner of the 50th Anniversary Tour de France).  This refers to Louison Bobet's 1953 Tour de France win.  The second of Bobet's three consecutive Tour wins was in 1954, also on a Stella, and it would seem probable that it would also be recorded if this bike was made after that event.  Bobet's third win was in 1955 when he was contracted to Mercier and rode a yellow Louison Bobet branded bike, also having a contract with Mercier for them to produce bicycles under his name.
Chain tension with derailleur gears was thought to introduce inefficiency to the drivetrain.  Huret's answer was the Speciale Louison Bobet rear derailleur which had a separate lever for adjusting chain tension so that it could be minimised while riding.  The shift lever and smaller tension lever were mounted side by side on the right of the down tube and the two cables ran down to a double pulley over the bottom bracket and along to a double stop on the chainstay and then via flexible outer to the rear derailleur.  The frame of this bike has the double roller and double cable stop and will be re-fitted with the correct rear derailleur in due course.
At some point this bike was "upgraded" with Campagnolo Record parts.  This version of the crankset was only produced in 1958 (reference Velo-Retro Campagnolo Timeline), the front derailleur was introduced in 1960 and the rear in 1962.  The Ambrosio bar and stem and Universal brake levers are also not original and quite possibly added at the same time as the Campagnolo drivetrain.
The brake callipers and wheels are assumed to be original equipment.  Quite likely the bottle cages too which appear to be the same type as shown on Bobet's 1953 Tour winning bike.
Near the front of the top tube, on the right side, is a decal reading "Stella Service Des Courses" and on the left side a decal "R. Laruelle", likely the name of the original owner or rider.
More Photos:  (click on image to enlarge