Urago
There is limited information readily available on Urago.  If there is anything that you can add, please contact me via the Contact Page.
Bicycle manufacturing company founded in Nice, France, by Dominique Urago with his 2 brothers, François, a bicycle track racer, and Joseph.
François was a 'Stayer' and I think it almost certain that it is his portrait on the head badges of Urago bicycles – it would be odd to have a picture of someone wearing a Stayer helmet otherwise.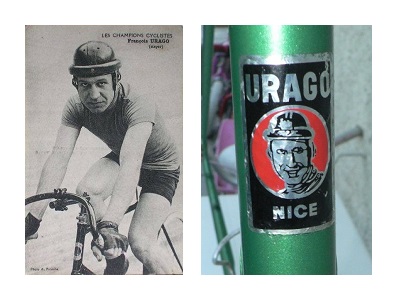 Urago supplied bikes to sponsored teams from 1935 through 1964 (reference 1.) and the Cycling Archives (Reference 2.) gives details of teams from 1946 through 1964.
According to Emile Arbes (Reference 1.) the business ceased trading in the 1980s
According to Norris Lockley (Reference 3.), the shop is still in Nice, trading mopeds and motor cycles
References:
Bicycles: