Gitane
This is Work in Progress – I still have a lot of research to do and would appreciate any input. The following is off the top of my head and will be updated as I find out more.
Gitane seemed to hit the European Pro Racing scene as Helyett left it, and at some later point Helyett bicycles were made by Gitane. Jacques Anquetil moved from the Helyett team to the Gitane team and continued his winning ways. Two of his 5 Tour de France victories were gained riding Gitane bikes in the early 1960s.
Gitane has to rate as one of the most successful teams with riders like Anquetil, Brian Robinson, Tom Simpson, Bernard Hinault, Greg LeMond, Laurent Fignon – with apologies to the great riders I do not immediately recall.  I shall add them later.
There is a very good website devoted to Gitane at http://www.gitaneusa.com/.
The top Gitane production bikes were close replicas of the bikes ridden by the sponsored teams and the 1977 Gitane Olympic on this site is very similar to the one ridden by the team and especially by Hinault to Tour de France victory in 1978
Photo of Brian Robinson riding for Rapha-Gitane team, early-mid 1960s: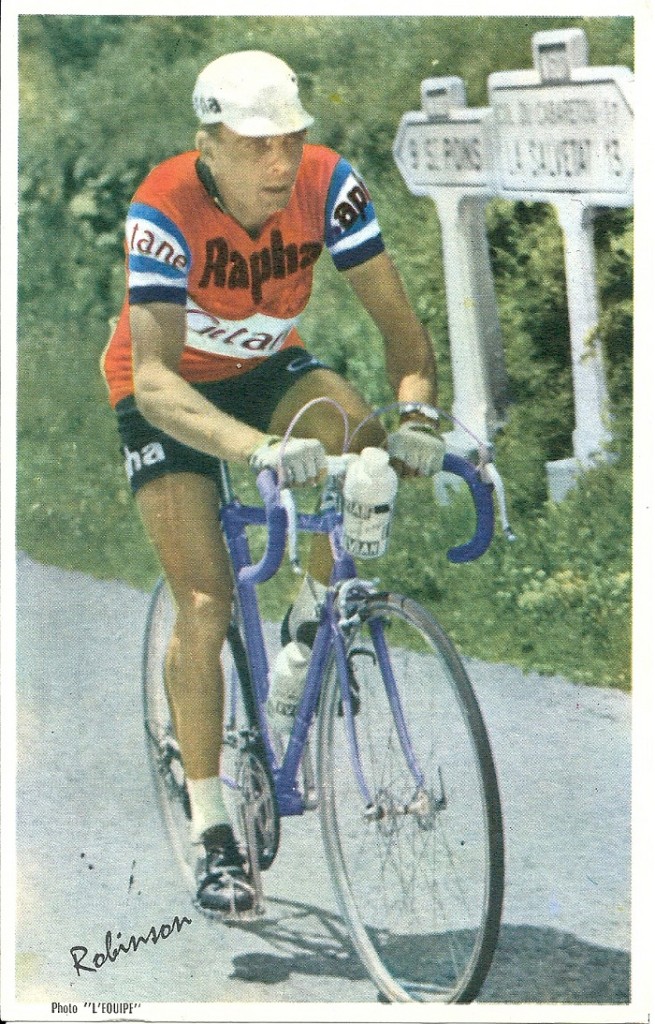 Postcard of Bernard Hinault: