c1982 Gitane Vuelta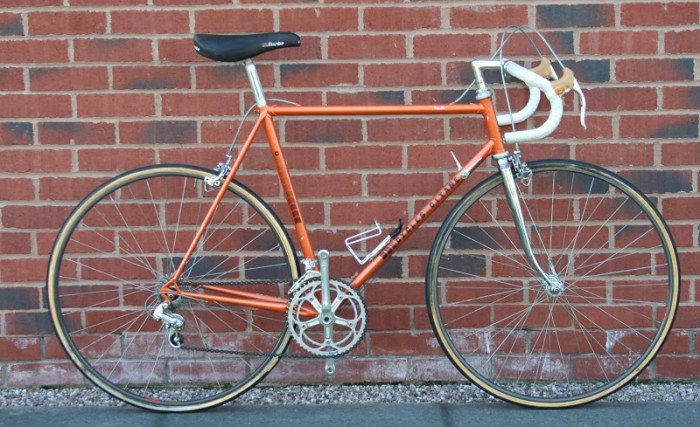 Specification:
Serial No:
Frame: Metric Super Vitus 971 Butted Tubes Forks and Stays; Seat Tube: 5x-cm ctt; Head Angle: 7x-deg; Seat Angle: 7x-deg; Wheelbase: xx-cm; Chromed front fork
Crankset: Shimano 600EX "Arabesque" – 52/42t
Pedals:
Gears: Shimano 600EX "Arabesque"; 6-speed freewheel.
Wheels: Shimano 600EX "Arabesque" SF Hubs; 36 Spokes; Rims: Mavic GP4
Brakes: Shimano 600EX "Arabesque"
Handlebars and Stem: 3ttt
Saddle and Seatpost:
Comments:
The date of this machine is in the range 1981 to 1983.  It was originally sold on the French market and the dealer's name decal is on the left chainstay.  The Vuelta in the 1982 English market catalogue appears to be red and the frame is made of Super Vitus 980 tubing, so is not exactly the same model.  I have yet to find a catalogue showing a bike of this specification, which is why the dating is uncertain.
This is a second tier racing bike with few compromises and slightly cheaper, but still very competent, components.  Altogether a very acceptable racing machine.
More Photos: