1969 Holdsworth Professional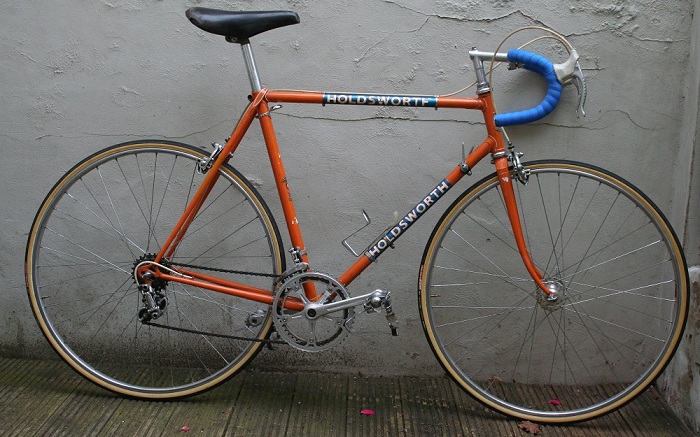 Specification:
Serial No: 69122
Frame: Reynolds 531 butted tubing, forks and stays; Seat Tube: 59cm ctt; Head Angle: 74.5deg; Seat Angle: 75deg; Wheelbase: 99cm; Campagnolo dropouts
Crankset: Campagnolo Record; Later Super Record Chainrings: 53t/42t
Pedals: Campagnolo Record
Gears: Campagnolo Nuovo Record front and rear derailleurs and shifters. 14-19t 6-speed freewheel.
Wheels: Super Champion Competition rims on Campagnolo Record LF hubs; 28-spoke F & R. (note: non-original wheels fitted in photos)
Brakes: Campagnolo Record – (early "no-name" type) – non-original brake levers
Handlebars and Stem: Fiamme
Saddle and Seatpost: Cinelli on Campagnolo Record seatpost 27.2 mm diameter
Notes:
This is a 1969 Holdsworth Campagnolo team bike allocated to Alan Bridges for the 1969 season – the one season that he rode for the team.  He had it fitted with handlebar gear control levers (shown in the team photograph below).  For the 1970 season it was fitted with down-tube levers and used as a spare machine for the team. It was carried as a spare machine for Les West in the 1970 World Professional Road Race Championship in Leicester, England.
The bike looks well-used and has lost some of its small transfers and gained a few non-original bits over the years.  It was acquired from Team Mechanic Dick Brodrick who provided the above information.  It is interesting that the team photograph below shows the team bicycles fitted with Universal Type 61 centre-pull brakes which were changed after the photo when the new Campagnolo brakes became available in England for the first time.  The rear brake cable stops and quick releases for the Universal brakes were brazed onto the back of the seat cluster and hacksawed off when the Campagnolo brakes were fitted – the remnant is still on the bike.
The 1969 Holdsworth Campagnolo Team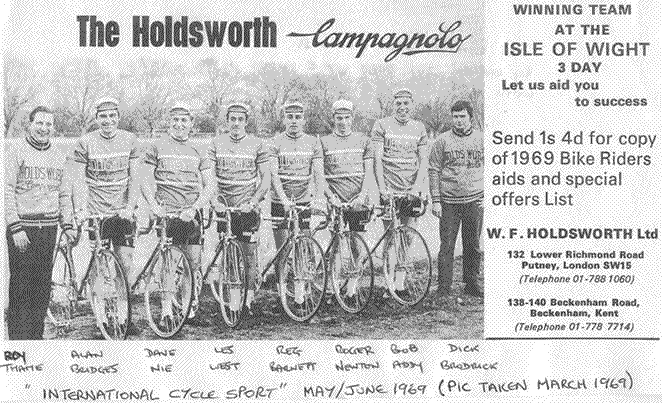 Alan Bridges and this bicycle (with handlebar gear levers and Universal brakes) are next to Roy Thame at the left of the picture, and Dick Broderick is on the right.
More Photos:
Certificate of Authentication
After usage with the Holdsworth Campagnolo team, this bike was in the possession of Dick Brodrick, team mechanic.  When he sold it he supplied a Certificate of Authentication.  Although his credibility is somewhat damaged by his association with the Bartali Bike Fraud, there is every reason to believe that his authentication is genuine: