1950-51 Wolsit Corsa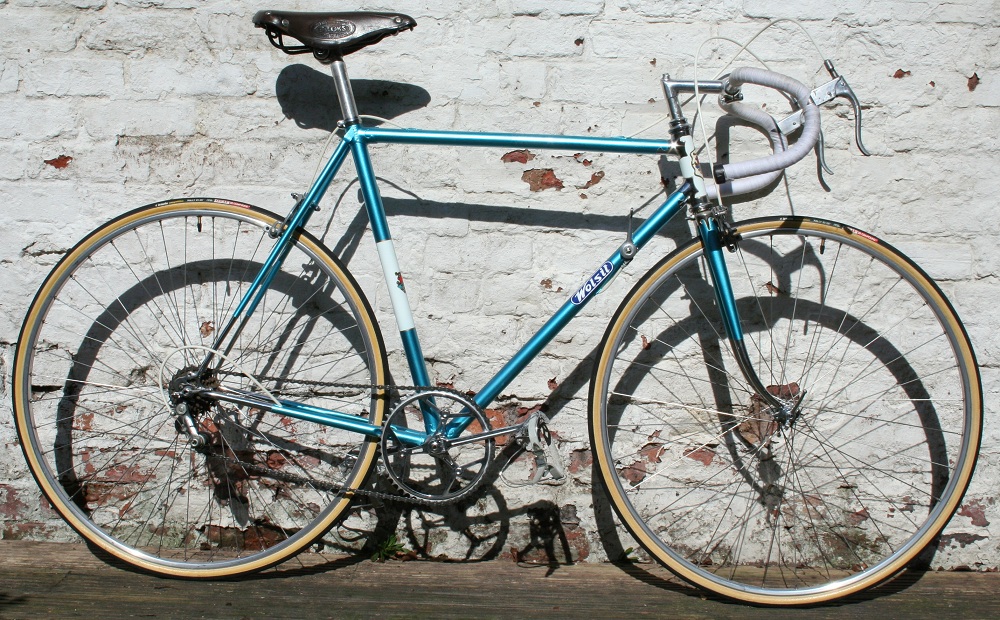 Specification:
Serial No: C05818
Frame: Unknown tubing; Seat Tube: 59cm ctt; Head Angle: 72.5deg; Seat Angle: 72.5deg; Wheelbase: 102cm
Crankset: Magistroni
Pedals: Sheffield Sprint
Gears: Simplex Tour de France rear derailleur and shifter. 14-18t 5-speed freewheel.
Wheels: Fiamme rims on FB (Fratelli Brivio) SF hubs
Brakes: Universal
Handlebars and Stem: Ambrosio Champion
Saddle and Seatpost: Brooks B17N on alloy seatpost 27.0mm diameter
Comments:
This was acquired as a frame in not especially good condition that I had restored, rechromed and refinished by Atlantic Boulevard in Bury with new decals by bicycledecals.net.  The components are mostly of the correct period and probably typical of what would have been fitted from new.  The Simplex gear is appropriate because the lever boss was threaded for a Simplex shifter.  The gear and rear brake cable are routed internally as shown in the photos below.
I plan to add further details of Wolsit which is a not very well known brand – one of the Emilio Bozzi companies that was successful in racing prior to the 2nd World War, but which subsequently took second place to Legnano, another Bozzi brand.
More Photos: