1978 Coppi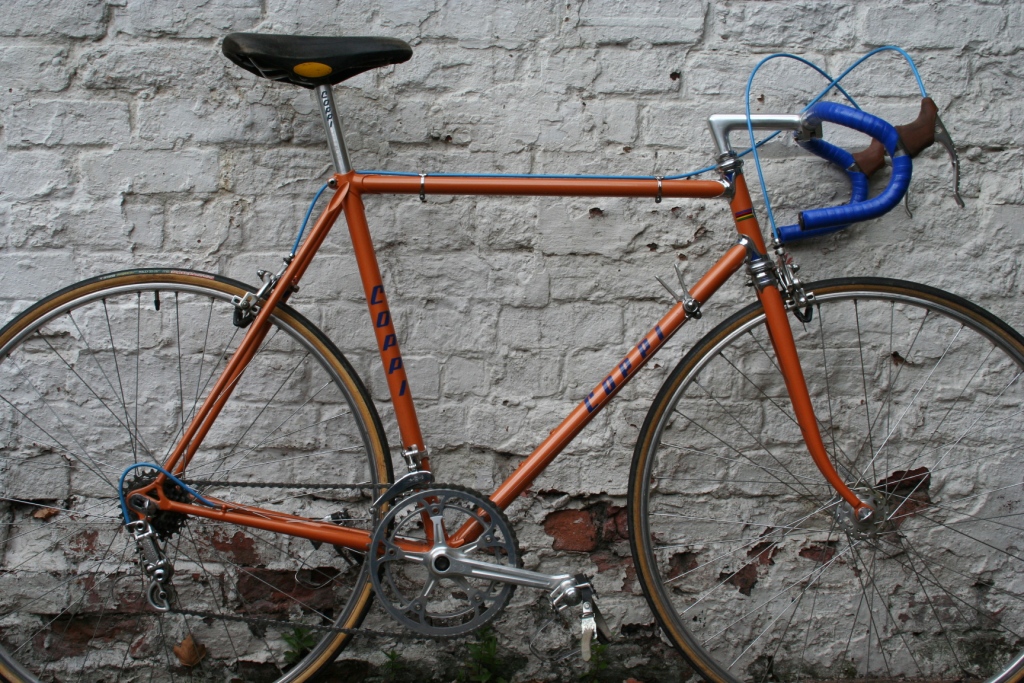 Specification:
Serial No: 01165
Frame: Reynolds 531 frame tubes; Chrome head lugs, fork crown and dropout faces; Seat Tube: 57cm ctt; Head Angle: 73deg; Seat Angle: 75deg; Wheelbase: 101cm; Campagnolo dropouts
Crankset: Campagnolo Super Record; Chainrings: 53t/42t
Pedals: Campagnolo Super Record Pista
Gears: Campagnolo Nuovo Record front and rear derailleurs and shifters. 14-18t 5-speed freewheel.
Wheels: Unknown rims on Campagnolo Record SF hubs
Brakes: Campagnolo Record Callipers; Super Record Levers
Handlebars and Stem: Cinelli
Saddle and Seatpost: Cinelli on Campagnolo Record seatpost 27.0 mm diameter
Notes:
In the late 1950s, Fausto Coppi made an arrangement with Fiorelli of Novi Ligure to manufacture bicycles under the Coppi name.  Everything that I have seen indicates that the Coppi bikes and Fiorelli bikes were virtually indentical except for finish and branding.  This arrangement continued after Fausto Coppi's death in 1960.
For the last couple of years of his career, Coppi rode his own-brand bikes, but he was past his prime at that stage.
Personal Comments:
I am guessing the date of this bike, based on the most likely of the dates on the locknuts of the hubs that came with this bike.  It is not especially reliable because there was evidence of the wheels being rebuilt and re-spaced to accommodate more gears.  I am certain that this bike was built in the 1970s.
I do not know the model but it clearly started life as a racing machine although it came retro-fitted with cheap derailleurs and triple crankset.  Campagnolo Record hubs, shifters, headset and pantographed seatpost all came with it, as did "sprint" rims and tubular tyres.  The original brakes were by Galli.  The finish was tired with corrosion on the chrome head lugs and badly faded paint.
So I had the frame refinished by Atlantic Boulevard with transfers by BicycleDecals.net, in a copy of its original finish and fitted components I considered appropriate, and am for ever amazed at how awesome a factory racing bike can be in terms of both style and performance.  All that really needs doing now is to fit darker blue cable casings.
More Photos: