1962 Coppi Campionissimo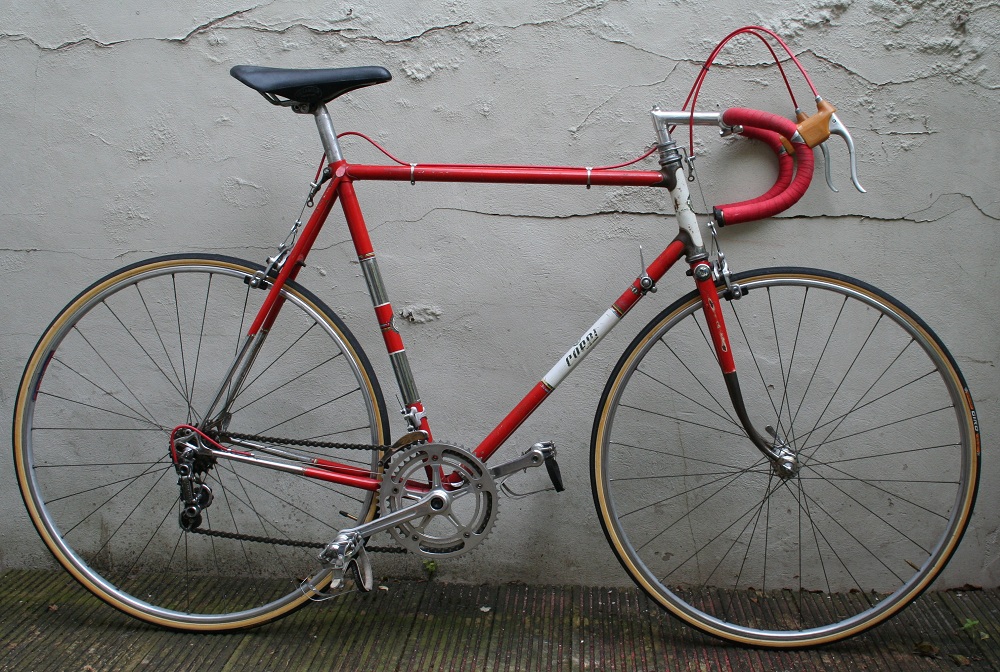 Specification:
Serial No: none
Frame: Unknown tubing (Columbus?); Seat Tube: 60cm ctt; Head Angle: 73deg; Seat Angle: 72deg; Wheelbase: 102cm; Campagnolo dropouts
Crankset: Campagnolo Record, 151mm BCD; Chainrings: 52t/44t
Pedals: Campagnolo
Gears: Campagnolo Gran Sport rear derailleur, Record front derailleur. 14-22t 5-speed freewheel.
Wheels: Unknown rims on Campagnolo Record SF hubs
Brakes: Universal Mod. 61 centre-pull
Handlebars and Stem: Ambrosio Champion
Saddle and Seatpost: UnicaNitor on Campagnolo Record seatpost 27.0mm diameter
Notes:
The date is an approximation, it is not likely to be earlier if the crankset is original because it does not have the raised lip at the pedal holes that the earlier cranks have.  Research would indicate that the date is not likely to be much later either  It was purchased with a miscellany of equipment, some newer, some older, indicating that this was probably purchased originally as a frameset.  Much of the equipment was considered "inappropriate" for a classic Italian lightweight – such as Titan bars and stem and Mafac brakes.  It was fitted with the earlier type Campagnolo Gran Sport derailleur with cable adjuster that was replaced about 1960.  The only parts fitted that were acquired with the bicycle are: Headset; Gear levers; Front derailleur; Gear cable guide (later type); Seat post; Pedals.  The equipment currently fitted is probably more representative of a period build.  The hubs currently have incorrect later-type quick release levers.
The frame is in its original, somewhat weathered, finish.  The bright panels on the seat tube are chromium plate, not foil applique.  This feature was also seen on the Bianchi Specialissima of the same period – in fact this bicycle almost looks designed to compete with the Bianchi in aesthetics and marketing position.  It must have looked stunning when new with its bright red paint and chrome.
I have not been able to find much information on early Coppi bikes and would greatly appreciate any information, photos, catalogue scans etc.  Please get in touch via the Contact page.
More Photos: (Click on photo to view larger image)