1999 Bianchi Pista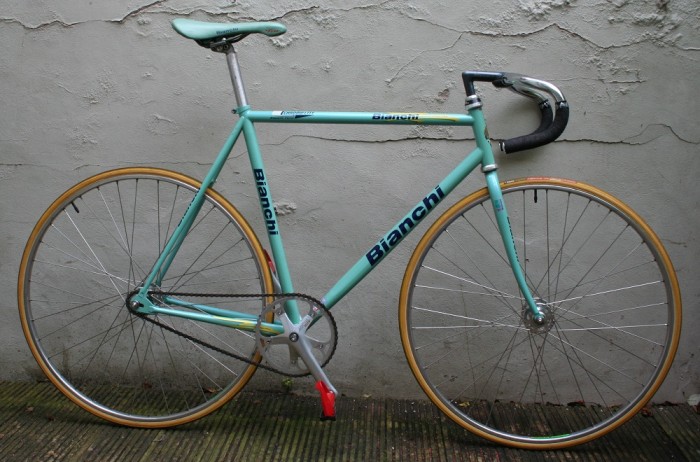 Specification:
Serial No: 57H276 (57 may only be frame size and not part of the number, but it is stamped on the bottom bracket as one)
Frame: Chromo Lite "Mega Pro" butted frame tubes and forks; Seat Tube: 57cm ctt; Head Angle: 74.5deg; Seat Angle: 76deg; Wheelbase: 98cm
Crankset: Miche Pista, 50t chainring
Pedals: Look clipless
Gears: Single speed fixed
Wheels: Ambrosio Montreal rims; Ofmega Pista LF hubs; 36 spoke
Brakes: N/A
Handlebars and Stem: Nitto steel bars on ITM stem inscribed Bianchi
Saddle and Seatpost: Selle Italia Flite on Campagnolo Nuovo Record seatpost 27.2mm diameter
Bianchi Reparto Corse:
"Reparto Corse" is Bianchi's legendary racing department where, according to legend, Bianchi team bikes and superior racing bikes are made.  This certainly was the case, but now so many Bianchi frames carry the "Reparto Corse" sticker that I wonder if it still is.  However, we can say with confidence that it denotes a real racing bicycle, although of course, many never get raced.
I have a 2000 Bianchi catalogue that says nothing about it, other than the sentence "We already stated that Bianchi, with its prestige Racing Dept., is always evolving".  However, the pages covering the nicest bikes do have printed at the bottom Reparto Corse Bianchi.
The Bianchi website is not very forthcoming either and there does not seem to be any claim that the best racing bikes are made there.
Notes:
I purchased the frame new in 2000, but I believe it to be a 1999 model.  The only components purchased specifically for this build were the Miche crankset and the Nitto bars.  The other parts were lying around or transferred from other bikes, either then or later.  I'm not quite sure why it has a Campagnolo Nuovo Record seatpost – it had a contemporary Record post at one time and a Croce d'Aune one at another..
More Photos: (Click on image if you want to see a larger version)