1989 Bianchi Mondiale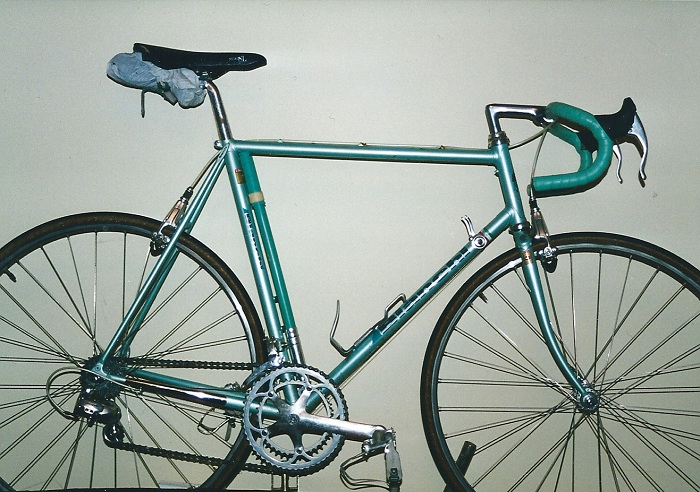 Specification:
Serial No:
Frame: Columbus SLX Tubes Forks and Stays; Seat Tube: 59cm ctt; Chromed dropout faces and right hand chainstay
Crankset: Campagnolo C-Record 53/42t (originally Croce d'Aune)
Pedals: Campagnolo Croce d'Aune
Gears: Campagnolo C-Record (originally Croce d'Aune); 7-speed freewheel.
Wheels: Campagnolo Croce d'Aune Hubs; 32 Spokes front and rear; Campagnolo 700C clincher rims
Brakes: Campagnolo C-Record Delta (originally Croce d'Aune)
Handlebars and Stem: 3ttt
Saddle and Seatpost: Vetta SL Saddle (originally Selle Italia Turbo, coloured Celeste) on Campagnolo C-Record seat post (originally Croce d'Aune)
Comments:
Photographs of this bike are a bit sparse – I disposed of the bike years ago and just happened to have these pictures lying around.  Originally the bike had a complete Croce d'Aune groupset but various parts were "upgraded" to C-Record.  It used to have the first generation Croce d'Aune rear derailleur in which pulling the shift cable rotated the parallelogram rearwards and a link then moved the pulley cage inwards to shift onto a larger cog.  Totally bonkers – and it cost more than the C-Record gear available at that time.  This bike was then fitted with the later slant parallelogram C-Record rear shifter and improved Syncro shift levers (which actually worked properly, unlike the previous design).  When that gear was introduced, the Croce d'Aune rear derailleur switched to the same design but with plain pulley bearings in place of the ball bearings of the C-Record model.
This was (supposedly) a Reparto Corse built bike and was a very competent race bike out of the box.