1973 Team Bic Motobecane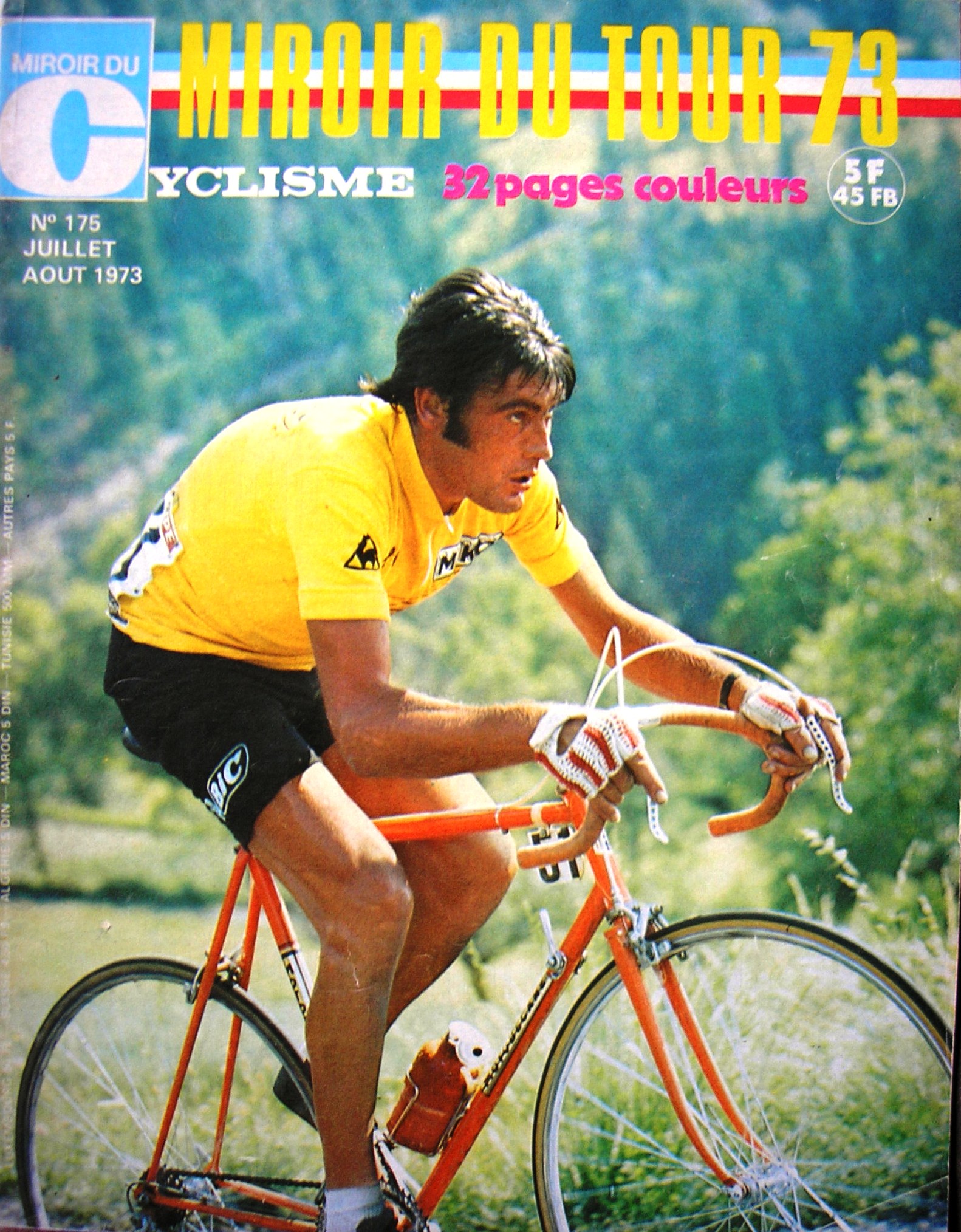 In the absence of a photo of my bike, here is a picture of Luis Ocana winning the 1973 Tour de France
Specification:
Serial No: 8
Frame: Metric Reynolds 531 butted tubes, forks and stays; Seat Tube: 58cm ctt; Head Angle: 73deg; Seat Angle: 73.5deg; Wheelbase: 101cm; Campagnolo dropouts
Crankset: Campagnolo Record; Chainrings: 52t/42t
Pedals: Campagnolo Record
Gears: Campagnolo Nuovo Record front and rear derailleurs and shifters. 14-18t 5-speed freewheel.
Wheels: Mavic Monthlery Route rims on Campagnolo Record LF hubs
Brakes: Campagnolo Record
Handlebars and Stem: Cinelli
Saddle and Seatpost: Cinelli UnicaNitor on Campagnolo Record seatpost 26.6mm diameter
Bic Team:
Bic sponsored a professional cycle racing team from 1967 through 1974.  Jacques Anquetil rode for the team 1967 through 1969, the last 3 years of his career, and I would assume that the team rode Anquetil branded bikes during those years.  Luis Ocana was team leader 1970 through 1974, the last year of sponsorship, and the team used Motobecane cycles during that time.  Luis Ocana won the Tour de France in 1973 riding a Motobecane-branded bicycle not made by Motobecane.  Most if not all of the rest of the team would have ridden bikes made by the factory such as the subject bike.
Personal Comments:
Whereas the provenance of this machine is one of hearsay – bought on eBay from someone who acquired it from an ex-team mechanic, it is actually quite believable because it has no serial number other than the number 8 on the bottom bracket.
The bike had been repainted blue and was not fitted with decals (except for incorrect Columbus tubing decals),  There were traces of its original orange paint inside the seat tube and bottom bracket.  It was fitted with an incorrect fork, but an extensive search has turned up one that is correct in all material details.  New decals are now available from bicycledecals.net .
This bicycle is undergoing restoration to its former glory.
Whereas the following photo from the 1974 Motobecane catalogue refers to Luis Ocana and his Motobecane "Team Champion" bicycle, I have not found any evidence that the "Team Champion" existed before 1974.  It appears to be a top-end model introduced to capitalize on the team's success.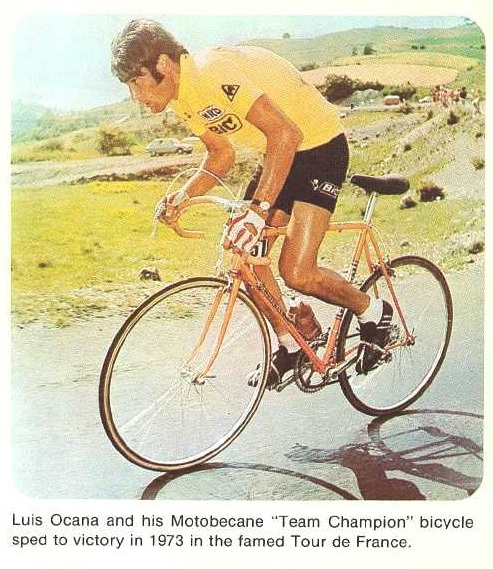 Photos of some of the bits of my bike: