1963 Helyett Speciale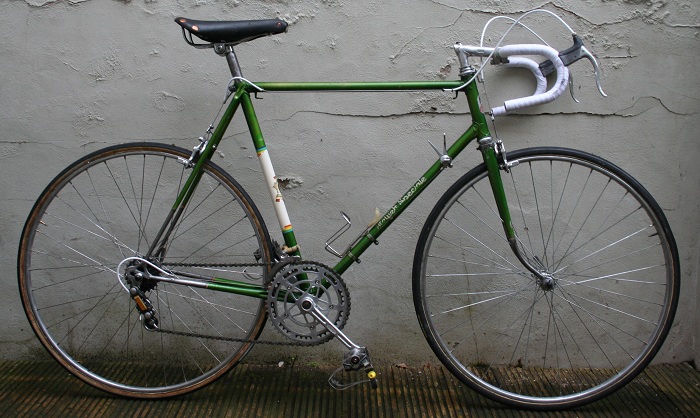 Specification:
Serial No: 557656 (to be confirmed – markings not clear).  From some point in the 1940s, the first two digits of Helyett frame numbers represented the year of manufacture.  The evidence is that this continued until 1962, after which the numbering system changed – another frame likely also from 1963 has surfaced and that too has a number that does not contain the year of manufacture.  Frames from 1962 have serial numbers starting with 62….
Frame: Metric Reynolds 531 butted tubing, forks and stays; Seat Tube: 59cm ctt; Simplex dropouts
Crankset: Stronglight 63; Chainrings: 52t/45t
Pedals: Maillard (later)
Gears: Simplex Prestige front and rear derailleurs; Huret gear levers; 5-speed freewheel.
Wheels:
Brakes: Mafac Racer
Handlebars and Stem: Pivo
Saddle and Seatpost: Brooks saddle on steel post
Notes:
This bike is assumed to be from 1963 on the basis of the Stronglight 63 crankset and the new Simplex Prestige derailleurs, largely manufactured from Delrin, introduced that year.  Copied at the bottom of the page is an advertisement from the November 1962 issue of Coureur Sporting Cyclist which states that Jacques Anquetil used this gear in the later stages of the 1962 Tour de France which he won.
The seat tube transfer carries a picture of Jacques Anquetil as used on Helyett cycles since his 1957 Tour de France win.  In 1963 Helyett did not sponsor a team and Anquetil rode for Gitane, so it is perhaps surprising that Helyett continued to use his image.  It is not known when they stopped (or were prevented from) using his image.
The wheels, pedals, gear levers and saddle on this bike are non-original but it is considered quite possible that the other parts are original or as originally fitted.  The Huret gear levers would likely have been fitted because the originals broke or because they were just considered to perfom better.
More Photographs:  (click to view larger, then back to return to this page)