1959 Helyett Speciale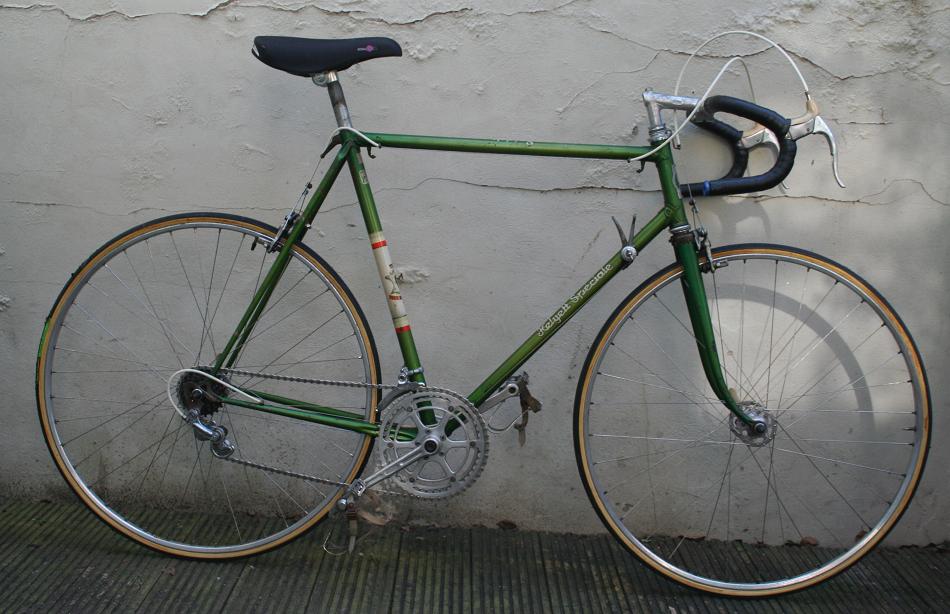 Specification:
Serial No: 59227
Frame: Metric Reynolds 531 butted tubing, forks and stays; Seat Tube: 60cm ctt; Head Angle: 74deg; Seat Angle: 71.5deg; Wheelbase: 103cm; Simplex dropouts
Crankset: Stronglight 57; Chainrings: 50t/46t
Pedals: Lyotard
Gears: Simplex 543 rear derailleur; Simplex LJ23 front derailleur.
Wheels: Mavic rims on Campagnolo Super Record LF hubs with Simplex quick release skewers.
Brakes: Mafac Racer
Handlebars and Stem: Pivo
Saddle and Seatpost: TBD
Notes:
The Helyett Speciale bicycle was made famous by Jacques Anquetil who won 3 of his 5 Tour de France victories on bicycles branded as Helyett Speciale and built with the distinctive Helyett version of the Nervex Professional lugs by Bernard Carre.  Photographs indicate that most team members rode actual factory bikes. This machine is currently stripped for rebuild to the above specification which approximates that of the Helyett team bicycles in 1959.  Some of the photos are therefore not totally representative.  Anquetil won the 1957 Tour de France on a machine that was similar but with a Simplex rod-operated front shifter and FB-Simplex hubs, sometimes also with a Stronglight 49D crankset as in the photographs of the subject bicycle.  The second of his 5 Tour victories was in 1961 on a similar machine but with the new Simplex JUY 61 parallelogram rear derailleur.  His 1959 Tour bike had half-chromed forks and stays, his 1961 and 1962 Tour-winning Helyett Speciales did not have chromed forks and stays.
Jacques Anquetil in the 1959 Tour de France: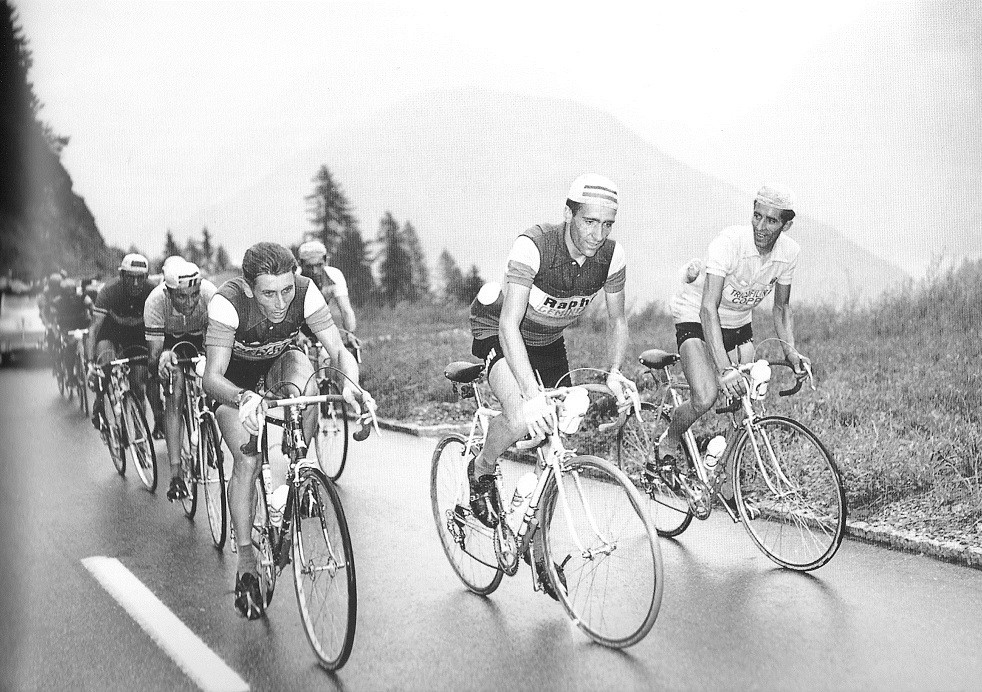 More Photos of 59227:
When purchased, this bicycle was fitted with a range of cheap modern equipment and had clearly been exposed to the elements, resulting in fading of the beautiful Helyett green paint and of the transfers (decals) and deterioration of the chrome.  Fortunately the frame itself had not been hacked around to fit the new parts.  I was planning to refinish it so that it would look beautiful again, but decided that it was hard enough to find one of these in passable original finish and so decided preservation was the better course.  I have accumulated the right components over time and will soon be rebuilding it to the above specification.  The photographs here represent a sort of half-way stage in the resurrection of this bicycle.
While I had the bicycle apart, I had the transfers copied with the result that they are now available to anyone who does want to refinish one of these superb classic factory lightweights.  You can get them here:
http://bicycledecals.net/helyettdecals.htm