c.1950 Fonlupt Course Professionnel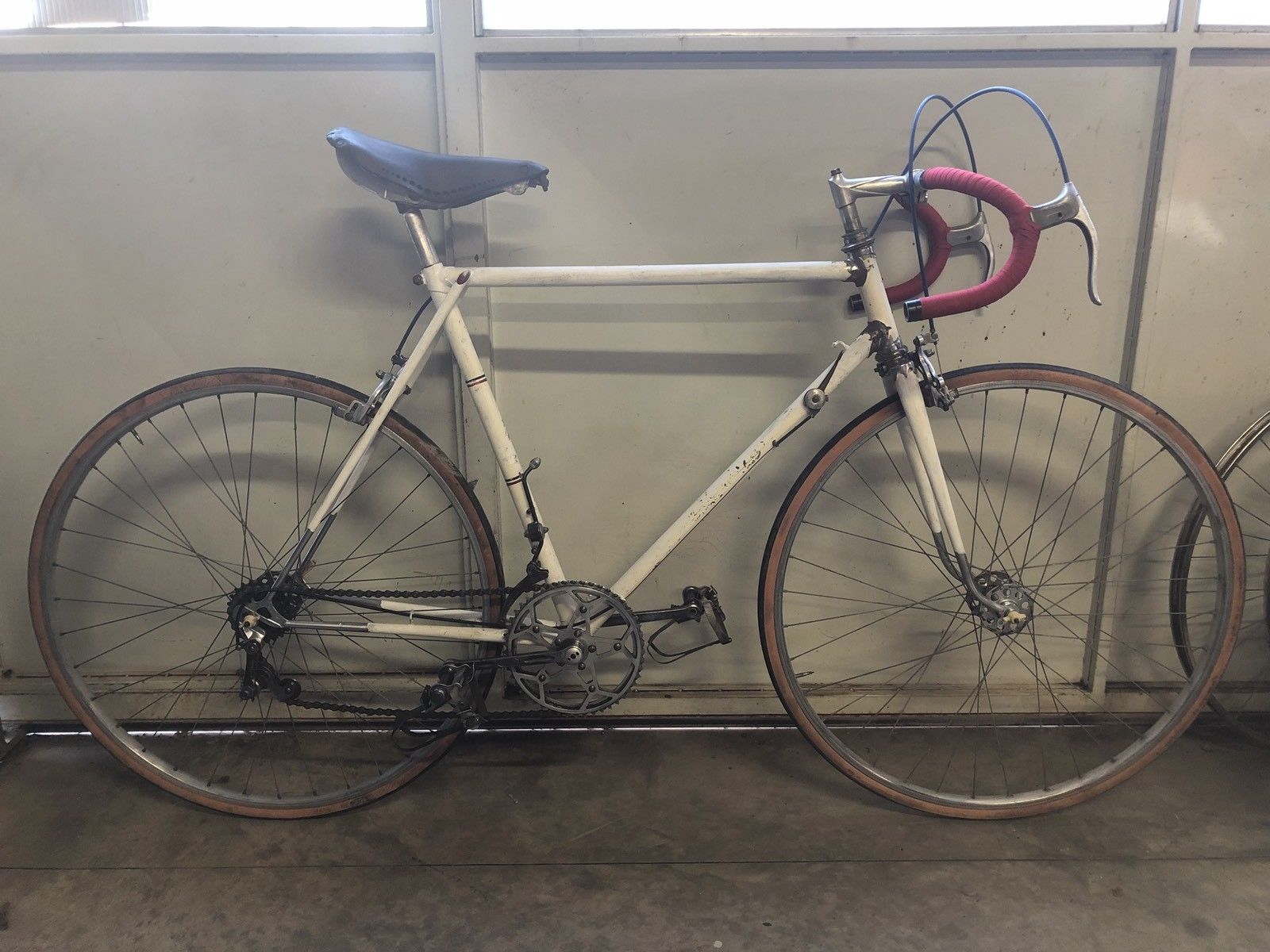 Specification:
Serial No: Mostly illegible xxx49
Frame: Unknown steel tubing; lugs; Seat Tube 56cmctt; Top Tube 57cm ctc
Crankset: Stronglight 49A cotterless steel cranks with Stronglight aluminium alloy chainrings – 49/46t
Pedals: Lyotard Marcel Berthet Type 23
Gears: Simplex Tour de France rear derailleur, 4-speed; Simplex rod operated Competition front derailleur.
Wheels:Simplex large flange 3-piece steel hubs
Brakes: Beborex
Handlebars and Stem: AVA
Saddle and Seat post: Ideale Type 59 Record saddle; steel seat post
Comments:
The dating of this bike is tenuous and subject to revision.  It is considered later than our 1949 Follis because the brakes are marked Beborex, and the front gear shifter has an upper stop on the lever, both features unlike the Follis.  On the other hand, the right rear dropout gear hanger is stamped with sharp bends and is unusual – logic would seem to indicate that it is an early version introduced prior to the more gently contoured dropouts as on the Follis and which were in production at least until the late 1950s.
One of the most notable features of the frame is the arrangement of the seat stays attaching to the seat tube and then the top tube ahead of the seat lug.  These are frequently referred to as Hellenic stays, after Fred Hellens, Sheldon Brown's Bicycle Glossary describes them as "of no practical value, and often cause unnecessary complication in brake-cable routing, luggage-rack attachment and installation of frame pumps. The are also slightly heavier than normal frame construction".  The French versions of this arrangement as shown here and on the frames of a number of French constructeurs of this period, tend to be closer to the seat lug so not being quite as disadvantageous as in Sheldon Brown's description.  French constructeurs were using it at this time, claiming it to improve comfort.  It is less common on the products of higher volume manufacturers such as Fonlupt.
Another unusual feature is the absence of caps on the tops of the seat stays, which are completely open.  We have seen this feature on track bikes before, but this is the first time we have seen it on a road bike.
More Photos: (click on image to enlarge)