195x Bartali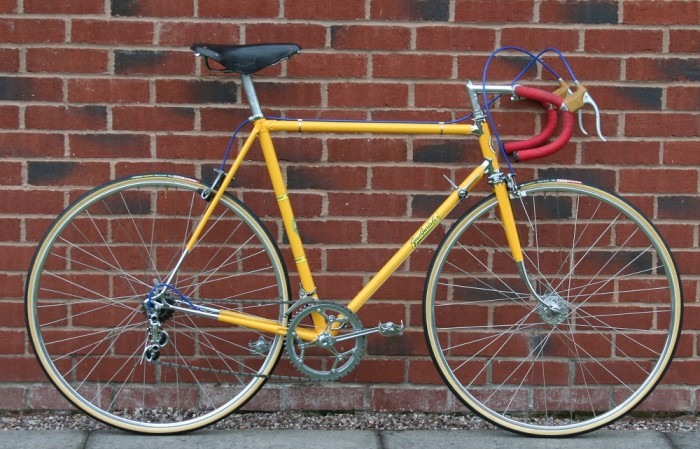 Specification:
Serial No: none
Frame: Unknown tubing; Seat Tube: cm ctt; Top Tube cm ctc; Head Angle: deg; Seat Angle: deg; Wheelbase: cm; Campagnolo dropouts
Crankset: Magistroni
Pedals: Sheffield Sprint
Gears: Campagnolo Gran Sport front and rear derailleurs
Wheels: Fiamme rims on Campagnolo LF Gran Sport hubs
Brakes: Universal Type 51 ("Extra")
Handlebars and Stem: Ambrosio Champion
Saddle: Brooks B19 saddle (newer) on aluminium seat post, 27mm dia.
Notes:
Likely manufactured mid 1950s by the Santamaria brothers of Novi Ligure.  Refinished in "Bartali Yellow" – the colour of the Bartali team bikes.  Although the lugs look similar to lugs produced by Nervex, the lugs were supplied (also manufactured?) by Emilio Bozzi and are of a style also used by Fiorelli (who were also based in Novi Ligure).  All the threading is Italian.  Appears to be a high quality and very typical Italian racing bike frame.
It is my opinion that Head Badges signed "G Bartali", as on this bike, are earlier than those just signed "Bartali" – but I do not yet have much evidence for this other than seeing the "Bartali" only badges on frames that are definitely later than this one.
The picture of Bartali below (scroll to the bottom) shows Red bar tape and Red tape securing the cables (or covering the cable clips), which is surprising in view of the fact that the Bartali team jerseys were Yellow with Blue detail.  The original plan was to build this bike with Blue tape and cables – the Red tape was left on when these bars were removed from a Legnano so I may just fit Yellow cables to make it the same colour scheme as Bartali's bike.
Frame renovation, paint and chrome by Atlantic Boulevard, Bury, Lancs, England.  Decals by bicycledecals.net
More Photos: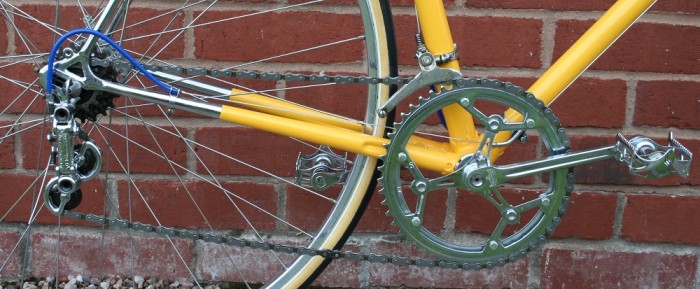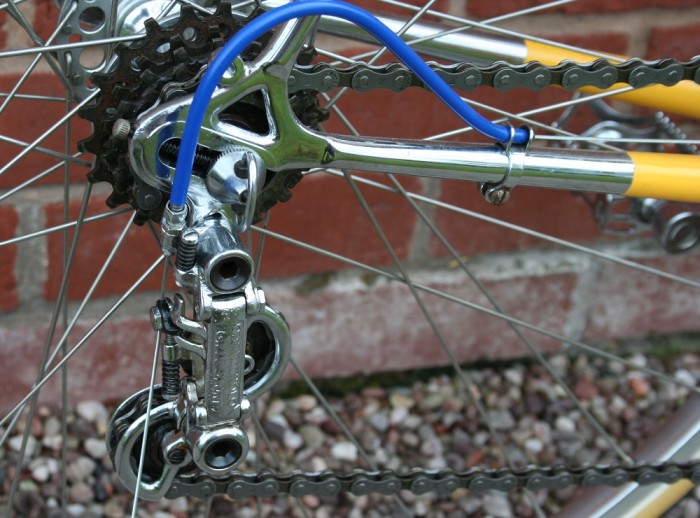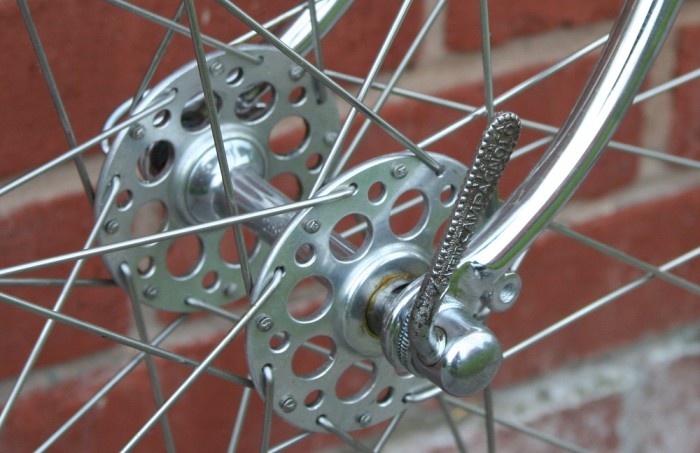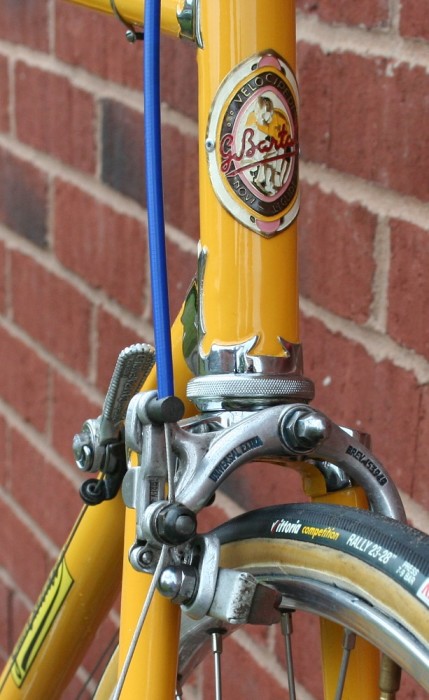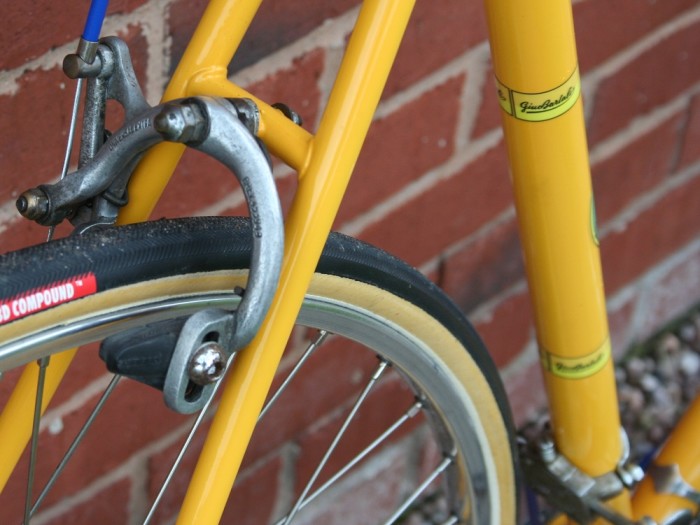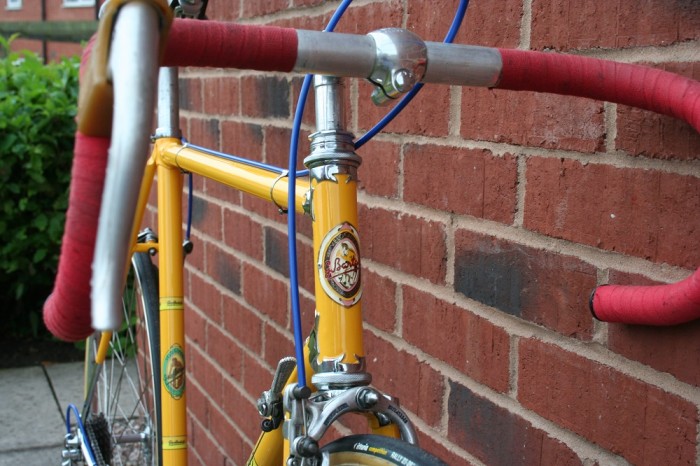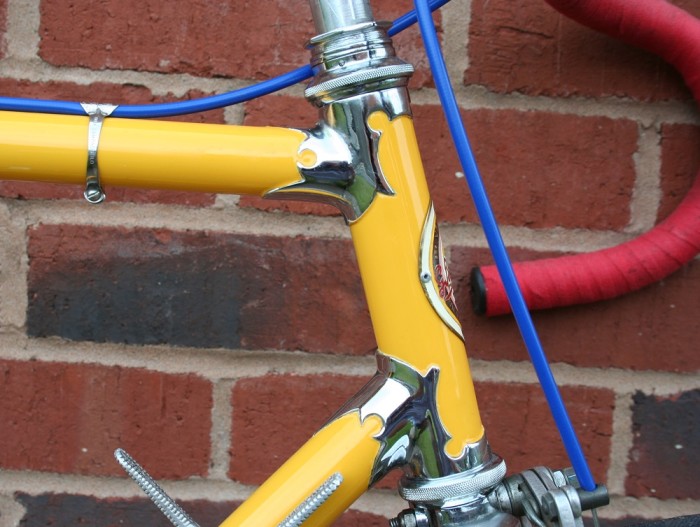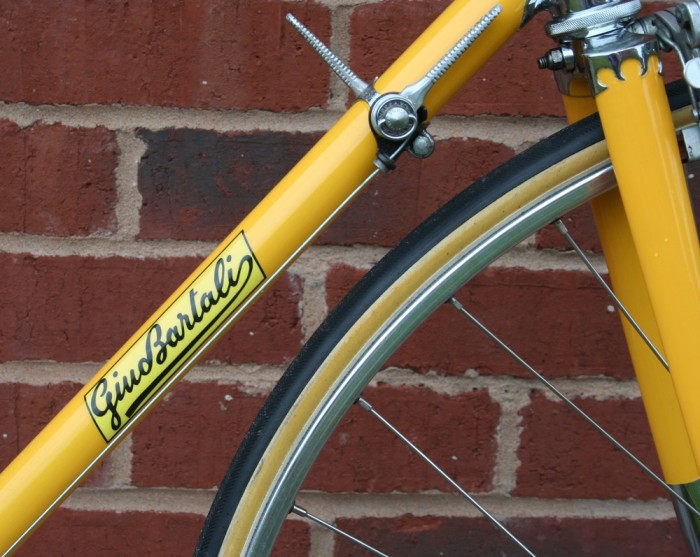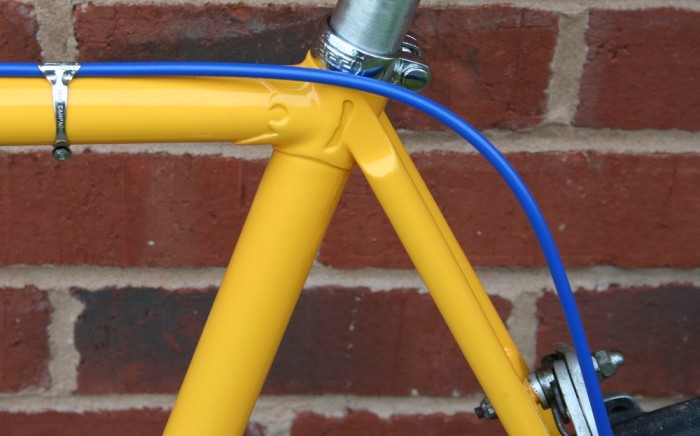 Publicity Postcard for Santamaria – manufacturers of Bartali bicycles – and Bartali-Gardiol Team (1950/51). This picture is interesting as being the one depicted in Bartali head badges and decals: