Gino Bartali Legnano Bike Fraud
This is not Bartali's bike!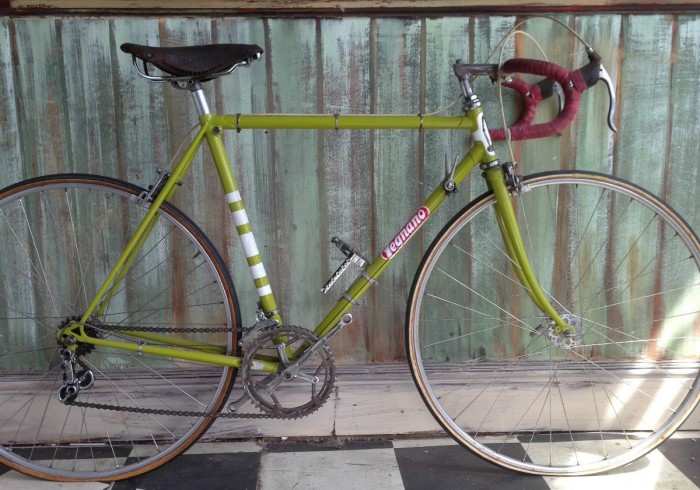 This bike recently (May 2013) appeared on eBay with the statement "I bought this bike from one of Tommy Simpsons mechanics,who bought the frame from a french mechanic during a Tour in the 50's……It is believed to be one of Bartali's frames but I do not have proof of this."
Believed by whom?  And of course the seller has no proof of something so evidently untrue.  This frame was built in the early 1950s as evidenced by the frame number (DG651) and Campagnolo Gran Sport dropouts.  The last year Bartali rode for Legnano was 1948 and then he was using a Campagnolo Cambio Corsa gear, the Gran Sport not having seen the light of day.  From 1949 until he retired he was riding his own brand bikes in his own team.  His bikes were built by the Santamaria brothers at their factory in Novi Ligure and I doubt Gino Bartali would want to be seen anywhere near a Legnano.  He would want to promote his own brand, not the brand he used to ride for.
The frame was sold to an unsuspecting Englishman in the South of France in the 1950s.  He was at a cafe, with his bike, and got chatting to a couple of bike mechanics who said they worked for Legnano.  They got to asking him if he would like to buy one of Bartali's frames and a deal was struck, but they had to go off in their van and pick it up – which likely means they had to go off and stamp Bartali's name in the bottom bracket.  You can tell from the photo below that the bracket shell is distorted because it was not properly supported during the stamping process.  Definitely not a factory job.
How do I know this story?  I purchased the frame from that first Englishman, circa 2000, (he kept it a long time).  I subsequently traded it for a Frejus that was more my size.  The person I traded it to was Dick Brodrick, one time mechanic to the Holdsworth team, and I told him categorically that it had nothing to do with Bartali.   A few years later I came across someone who was looking for a similar bike or frame, so I asked Dick Brodrick if he was interested in selling it.  He said he liked it so much he would never sell it, but now, after seeing it appear in other hands, I suspect he had already sold it at a good profit, complete with bogus story about how it was acquired – the subsequent owner, who was not the eBay seller, says he was told that phony story by Brodrick.
Be warned!  This frame will crop up periodically and someone will be suckered into paying over the odds for it.  It is quite nice, but it has lost its original paint and decals, and it is not Bartali's:
More Photos: