Early 1970s Delcroix Racing Bicycle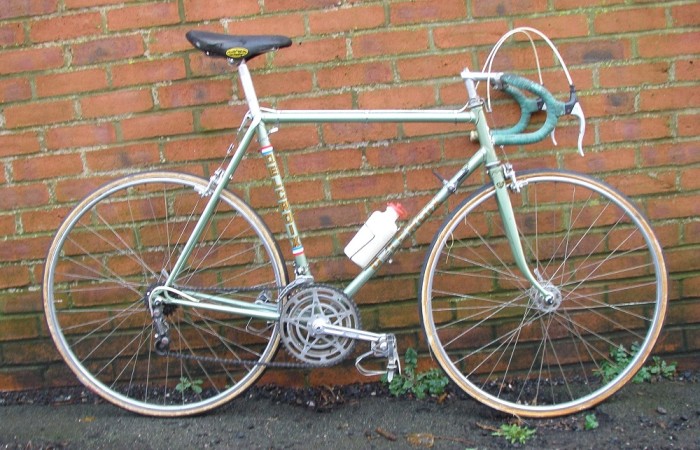 Specification:
Serial No: None
Frame: Built by Bernard Carre; Reynolds 531 butted tubing, Reynolds 531 forks; Seat Tube: 58cm ctt; Top Tube: 57cm ctc; Head Angle: 73.5deg; Seat Angle: 73.5deg; Wheelbase: 101cm; Campagnolo dropouts
Crankset: Stronglight 49; Chainrings:
Pedals: Lyotard
Gears: Simplex Prestige rear derailleur; Huret front derailleur; Simplex shift levers: Maillard 5-spd freewheel
Wheels: Mavic 'Championnat du Monde sur Route' rims on Maillard LF hubs with Maillard quick releases
Brakes: MAFAC Racer
Handlebars and Stem:
Saddle and Seatpost: Selle Italia 'Grand Prix Prof.' saddle on aluminium alloy seatpost 26.6mm diameter
Notes:
The frame is built by Bernard Carre who operated a 'mini factory' where he built bespoke frames for many famous cyclists as well as high-end frames for other manufacturers, such as Lejeune,
The tentative dating of early 1970s is based on the equipment and the 'foil' decals, although the French were using them quite widely in the late 1960s (by Anquetil and Motobecane to name two).
This bike appears to be in very original condition, except that the saddle is undoubtedly a later replacement.  It is a typical workmanlike French racing bike of high quality with the French components that one would expect on a bike of this era.  One reason for not dating the bike later is that one would expect Maillard 700 hubs and Simplex SLJ gears (introduced 1973/4) to be fitted to a bike of this standard if they were available when it was built.
More Photos:  (click on image to enlarge)